Parties, Special Events, Beach Parties, and Theme Parties
These are casual Island-Style Parties are usually done at the villa, or beaches include Maho Bay, Hawksnest Beach, and Francis Bay. These parties may be done day or night. Christy's is a firm believer in CHARCOAL grilling and often uses "Island made" charcoal. Up-Graded Elegance of the Décor and Entertainment is available.


Christy's "Classic" Island Style Parties, Casual Events, Theme Parties
Add a little extra fun to your vacation parties; perfect for Bachelor/Bride's Parties, 50th Birthdays, Anniversary, Graduations, & more. I must say I am an expert at Reunions (I have given 2 excellent ones for my own friends).It is my favorite event to celebrate. We customize everything from sculptured food to gifts, to decorations, and of course, costume accessories. Please request a "Celebration Conference" with Susie.



Spiritual Service Commitments
Ceremonies, Renewing Vows (a great surprise for your spouse), and Weddings, "Anne Marie" is St. John's Guiding Angel. Crystal and I
agree; we have never met a more "Beautiful Human Being" inside and out.
Direct contact: www.annemarieweddings.com



Palm Tree Grill Beach Party
Sample Menu

1.
Pomegranate Green Tea or Carnival Chunky Fruit Punch
2.
Sunshine-Nibbles, Fruit & Cheese & Volcano Veggie Salsa/Chips
3.
Sunflower Cabbage/Roasted Sesame & Sunflower Seeds, Potato Salad, or Coral Veggie Pasta Salad
4.
Captain's Grill: Choice of (2) Fresh Catch of the day, Beef Tenderloin, Pork Tenderloin, Shrimp or Chicken-Grilled on Skewers
5.
Desert: Choose any flavor Bundt Cake or Cup Cakes/Cookies
6.
Minimum Guest is 8 Adults, maximum of 15 guests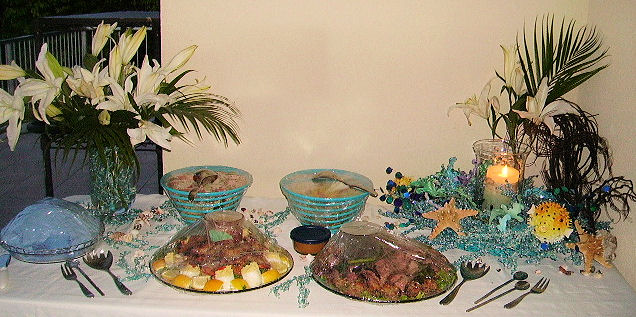 Special Event or Holiday Decor
Susie is an artist with 40 years of experience creating & decorating. She has degrees in art advertising, custom floral design, interior design, and has sold custom glass & tile art work on 5 Caribbean Islands. Susie's Artistic-designs are "Unique"; Always include Flowers, bright Caribbean Colors, and Lit to sparkle when the "Sun goes Down". A few of our Center Pieces: 4' Mocko Jumbie, Lit Golden Sandcastles sculptured from local beach sand and sea finds, 3' sculpture Beaded Fun Fish wrapped in brilliant colors or "Black and White". Decor inside and out, exotic Flora in every room, Ribbons, live- fish/flowers, and so much more. A few Theme Party Ideas: Wine-Tasting Bachelor Parties, Carnival Night/live Mocko Jumbie entertainment, Sunset or Sunrise-"Champagne/Rose Petals & Caviar with formal service; Awards Night at the end of a group vacation of adults: Includes Dinner/Service, Beverages, & a Master of Ceremonies who sets the flow of gifts, speeches, & laughter. These are just a few "Infinite Possibilities"!





"Casual" Beach Parties and Beach Baskets!
"A REAL Beach Party"! Christys provides blankets for "Ocean-Side Dining", Weber Grill, Coolers, and Serving Tables! Parking is parallel to the beach and an abundance of shade by grape trees. This Bay is 1' to 2'deep for 20 feet out, great for toddlers, games, and beach chairs in the water!!

Covered Pavilion for picnics are nestled into Nature (left & right). "Nature-Covered" (center), Picnic area is our personal favorite. Ocean is 10 feet away from both. Restrooms and changing rooms are on site.

Menu Options:
Wet Your Whistles
Pomegranate-Green Tea, Chunky Fruit Punch, & Water
Sunshine Nibbles
Fruit & Cheese Nibbles & Volcano Veggie Salsa/Chips
Sea Shell Salads Choice of 2 or 3 depending on size of Party
A. Asian Sesame Slaw - Roasted Sesame & Sunflower Seeds, with Olive Oil, & Salt
B. Potato Salad- Celery, onion, egg, & spices (Sweet relish or dill may be requested)
C. Macaroni (or scallop potatoes) Casserole /Cheese/Scallions/spices
D. Grilled Vegetables-Asparagus, Broccoli, Squash, Scallions, & Bell Peppers
Captain's Grill- 2 Entrée's choices
Entrée's are grilled on Skewers with the ultimate "Weber Charcoal Grill"!!!
A .Beef Tenderloin Request for temps will be requested (Rare, med ECT.)
B. Large Shrimp Skewers
C. Chicken-Skewers
D. Fresh Catch of the day- Smokey Grilled with onions, herbs, butter, and garlic
Deserts 1-2 depending on size of Party
A. "Cruzan" Rum Cake-"Christy's" Famous Treat
­B. "Oceans" of Chocolate Bundt Cake
C. "Yellow Bird" Fruity Cake
D. "Bakery Cakes "may be ordered separately by the client, we will pick-up for you. & provide plates and forks.
Minimum Adult guests (10)
Adults - $60 - per Guest
Children 8 and under - $40
(2)Staff -$180+ 20% Gratuity: (1) Grill master & (1) Party Hostess
Christy's Provides:
Food, Grills, Coolers with Ice, Cups, Plates, and Flatware, & "Bright Service"
This Service does NOT include Liquor or Sodas (see "Wet your Whistle" items)
Arrangements can be made to have liquor/soda purchased and delivered to the beach for you.
Beverage Service: $50+20% of cost
Party Décor and Accessories-$200+. Request call from Susie to customize.
Steel Pan Music $300 for 1 Pan 1 hr. Request quote for additional pan, Instruments, & or vocals.


Simply download the word document below and return your request via email or fax.



---
For further suggestions, custom quotes, or questions contact us!